MINDSCAPE SOUNDZINE / RUSSIA - English Attempted translation!!! English bio on bottom
Promo
© 2003 Mindscape

To the purpose it is possible to go different paths. It is possible directly, it is possible obliquely, it is possible roundabout ways, so that in general nobody has understood where you have gone and what for. Conspiracy, type. Time it, the truth, will borrow much more, than direct achievement of the purpose on a straight line. Here MINDSCAPE, for example, having decided to achieve originality of a sound, has gone to achievement of the purpose of years eight. And, basically, in an artful way. Separate parts of a way of this German group laid through hevi-metal (the widest moshchenaja the road in all Germany), to confuse critics, command has turned in a modernist style - metal,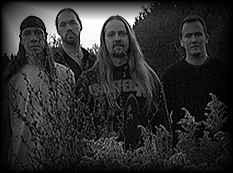 Was trampled there, has left marks, was developed - and is quick potopala where eyes look under accompaniment something shizoidnogo such as FAITH NO MORE. Thus guitarists have not ceased shparit hevi, drammera still will wear out in a modernist style - staff with an easy impurity diskotechnyh rhythms, and the vocalist as has gone with a pioneer song on a life, and continues... To describe its manner of singing I am not taken. It is a theme separate.
Result? Somewhere they came. I do not know, it is successful or not (in sense, whether are pleased), but from the party it is looked at least interestingly. Non-standardly. Antimelodious hevi... Yes, for the sake of such animal it was necessary to be trampled years eight.
Contact: a label - c/o Insanity Records, Marcel Westphal, Laurentiusstr. 31, 51789 Lindlar, Germany phone: +49 (0) 22 06/866110; fax: +49 (0) 22 06/868090
Label website | Band website
E-mail label | E-mail band
Treklist
1. Pressure
2. Shame
3. Remember
4. Infinite Design
5. Ultimate Gift
6. Blinded
Total running time - 24 minutes 33 seconds
Mp3
The biography
Mindscape formed in 1995 has achieved some great accomplishments over the last 8 years. Beginning with 2 musicians and a dream to create unique raw metal the drummer Matt and guitarist Scot set out to build their band. Hard hours of practice, sometimes through 3am, they continued to develop music and embark on new ideas. In 1997 they brought the first frontman to the line-up, Bill Bartlett who successfully led the band in new heights with powerful vocals. Also with the soon addition of Von the bass player, the band started taking on new meaning in the local music scene. By this time turning 1998 Mindscape have already built a unique band, playing and developing a higher class of creative music. When they took the stage they began to notice that crowds were immediately into what Mindscape had developed opening for such acts as Overkill and Dokken. Their first release independently was called " World of Reflections " strictly for promotion only. In 2000 they would come in a step harder with " Reality is the Illusion ", this was a 5 track demo that sparked a higher desire for more. Steve the new vocalist was originally from Wisconsin and knew he had found a new home with Mindscape as the anger and power behind the microphone, unfortunately Bill had a different path to take and the band greatly missed his departure. Fans were not satisfied with 5 tracks as Mindscape began to grace the stage with acts like Flotsam and Jetsam, Manowar, Reveille and other great acts. In 2002 the release of " Dismantling Evolution " was inspired based on the writing of the world's governments/politics and their role playing in destroying mankind. 2 years and shitloads of work led to a story of broken dreams, religion, and empowerment, which was delivered in such anger to receive recognition worldwide on over 300 radio stations, jukebox licensing agreements, distribution at major record stores, and noted attention by magazines from the around the globe. Mindscape has also graced the presence of the billboard charts with "Pressure" for 14 weeks in the top 100 (holding *1 for 2 weeks straight) along with numerous weekly and monthly features in magazine and webzines fronting Mindscape as a " new and powerful force in the industry ". The music has gained the attention of the showcase spotlight in the Cleveland Music Festival and the Cleveland Metal Festival along side of Taproot, Mushroomhead, Saxon and many other icons in the industry. Make no mistake, Mindscape is unique, they deliver it like it has to be done and refuse to conform keeping all audiences entranced. Mindscape will continue to be a strong and dominant force in the music industry backed by the greatest fans in the world. Mindscape is excited to be with Insanity Records. We have strived to create an environment for the fan that is driven by the music. We have dreamed our music, designed our music, and brought it to a higher level. Although we demand worldwide domination in the music industry, we would settle for a beer with our closest fans before and after a show. It's not about anything else but bringing you something from our heart that you will have to buy 2 copies of because you burnt the first one out. We hope you like what we have to offer and would enjoy hearing from any fans at our website with any comments you have. We do respond as real people and always will. We look forward to catching you at a show soon!!!